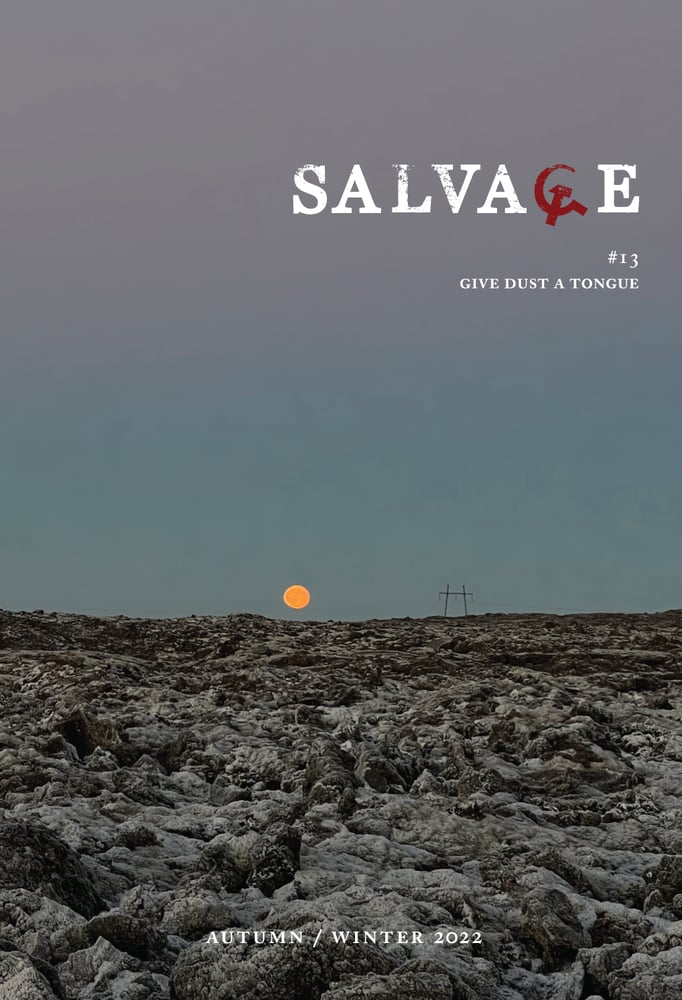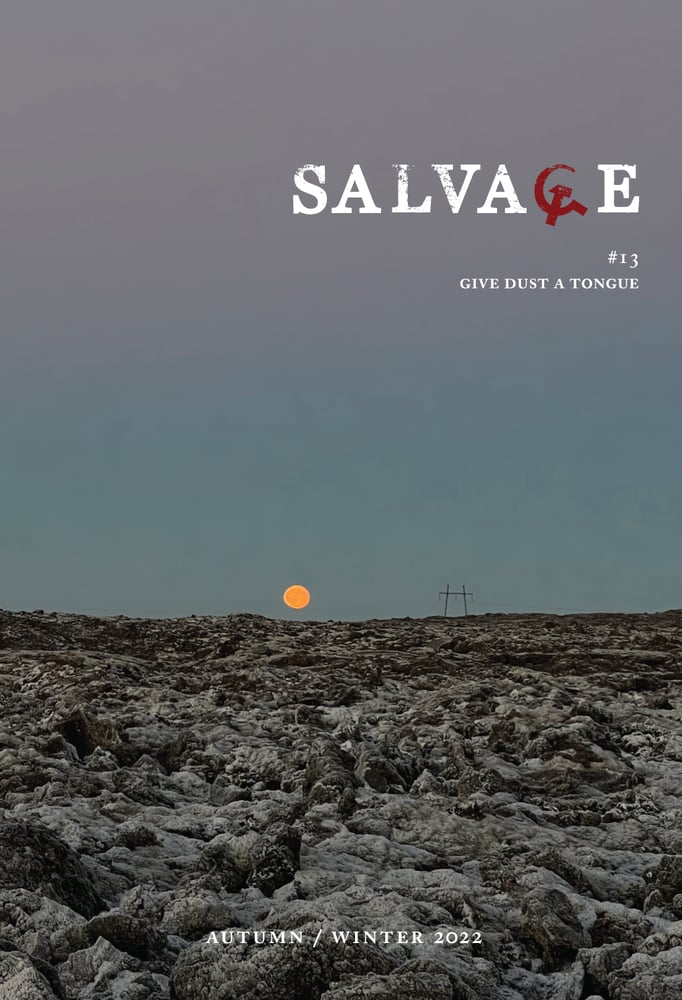 NORTH AMERICA ONLY Salvage #13: Give Dust a Tongue
£12.00
PLEASE NOTE: WE HAVE SOLD OUT OF COPIES IN OUR BRITISH WAREHOUSE
ANY COPIES ORDERED HERE WILL BE FULFILLED BY OUR NORTH AMERICAN WAREHOUSE (and shipping costs reflect that)
THIS MEANS IF YOU ARE BASED OUTSIDE OF NORTH AMERICA, WE DO NOT KNOW HOW LONG IT WILL TAKE TO REACH YOU, AND WE DON'T KNOW WHAT CUSTOMS CHARGES WILL BE
CUSTOMERS IN BRITAIN WE RECOMMEND YOU BUY/ORDER FROM BOOKSHOPS (LIKE HOUSMANS)
CUSTOMERS IN EUROPE WE RECOMMEND ASKING YOUR LOCAL BOOKSHOP TO ORDER IN COPIES FROM CENTRAL BOOKS
CUSTOMERS IN THE REST OF THE WORLD PLEASE CONSIDER TAKING OUT A DIGITAL SUBSCRIPTION VIA OUR WEBSITE TO READ THE ISSUES IN PDF FORMAT
Table of Contents
SALVAGE EDITORIAL COLLECTIVE
Give Dust a Tongue: Perspectives #13
Because it cannot be avoided, once more on the state of the world.
RICHARD SEYMOUR
Literally Nothing: On Class Dysphoria
Self-loathing as the class consciousness of the defeated. Musings on the transmutation of melancholia into militancy.
JAIRUS BANAJI
Russian Capitalism Today: A Case of 'Primacy of Politics'?
Toward a political economy of contemporary Moscow where politics and economics are inseparably entwined. And irresolvably in tension.
ERIC BLANC
(Re)Organising the Private Sector: Amazon, Starbucks, and a Revitalised Labour Movement?
Interview. Thirty years of one-sided class war have left the American labour movement a ruin. Rubble, it turns out, can make a potent weapon.
NISHA KAPOOR
Brave New World: Notes on Citizenship for the Data State
From lullabies of liberty to the new infrastructure of unfreedom. The adventures of data in the landscapes of capital and the state.
GRACIE MAE BRADLEY
Peacetime
Fiction.
ALVA GOTBY
The Labour of Lesbian Life: Wages Due Lesbians and the Politics of Refusal
The transgressive insights of Wages Due Lesbians: straightness as extraction, fucking as labour, and outcast sexuality as work refusal.
JACKQUELINE FROST
The Third Event: Part 2
Poem.
TONY WOOD
The Invasion of Ukraine One Year On: An Interview
Interview. A spooling and unspooling of Ariadne's thread. It's the only way to wind through the ghastly labyrinth of imperialism.
RICHARD SEYMOUR
Birds
Photography.
JAMES MEADWAY
Time, Labour-Discipline and the End of Industrial Capitalism
If crisis led to renewal, liberation would have come years ago. The new viral crisis of capitalism may not be its end. But it must be its end.
GARGI BHATTACHARYYA
The Arse-End of Empire at the Arse-End of the World
Paddling through the flotsam of imperial decay. Keep mouths shut and noses plugged and we'll be fine?
Two contributions from Salvage's panel, 'Freedom in the Twenty-first Century', at the 2022 Historical Materialism conference in London:
JAMIE ALLINSON
Fossil Sovereignty and Anthropocene Freedom
Will a transition to renewable energy usher in the realm of freedom? Can we extract answers from accounts of primitive accumulation?
RICHARD SEYMOUR
Freedom on a Damaged Planet
In a wounded world the realm of necessity will outlast capitalism. Beginning the tragic work of reimagining liberty's constrained horizon.